For the size of the town itself, nightlife in Aspen is impressive, exciting, and fun. From bars to parties and concerts, there is something for everyone up in the mountains. For those looking for a more unique experience, the Ultimate Taxi is a true Aspen original.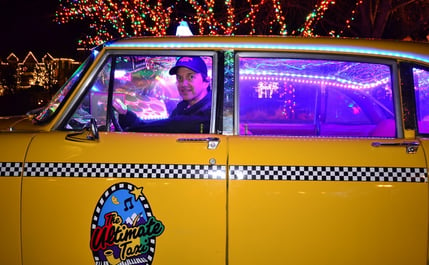 Since 1984 during peak seasons, Jon Barnes has been seen driving his 1978 Checker around town with lights flashing, music blaring, and all the other bells and whistles you would expect from a mobile party. Featuring LED lights, lasers, a 900 watt sound system, mini strobes, and so much more, the Ultimate Taxi is a dance party on wheels. Catering to tourists and locals alike, Barnes has decked out his cab so that people of all ages can get in on the fun. From his website directly, the "ride is a 45 minute musical, magical adventure around Aspen, Colorado." Be sure to check out where the taxi has been featured on TV and in the press here.
Reservations ahead of time are strongly recommended. A rock concert, a park ride, a magic show, a mobile movie, and a 3D laser light show, the Ultimate Taxi ride also includes toys, photos, rainbow glasses, and 360 degree photos and videos for those who want to save their memories from the experience. Visit the website or call/text Barnes at 970-404-1290 for more information on the world's coolest 45 minute taxi ride. Rides begin at sundown and last until 10:30 PM most nights.