Aspen is known around the world for its high-end shops and famous guests, but what makes Aspen shine is its four world-class ski hills, each with a unique personality. Aspen Mountain, Snowmass, Aspen Highlands, and Buttermilk make up the 362 trails, 41 lifts, and over 5,000 skiable acres. Pack your skis, grab you Ikon Pass and catch a flight out to Aspen this winter for some of the best skiing North America has to offer.
Ready For Takeoff
The first option to get here is to fly directly into Aspen/Pitkin County Airpot. While this is a small regional airport, during the winter months there are direct flights from select major cities or multiple daily flights to Denver International Airport. Aspen Airport is only 10 minutes from downtown Aspen.
Your second option is to fly into Denver International Airport and rent a car or take a shuttle to Aspen. Denver has hundreds of daily flights and you will have no problem getting there. However, from DIA the drive to Aspen is around four hours. With Colorados unpredictable winter weather, most visitors opt to take a shuttle ride, sit back and relax and let the driver handle the roads. Epic Mountain Express is the preferred shuttle for most of Colorado.
Where to Stay
There are two main sections in the Aspen area to find lodging, The first being aspen proper. The main town of Aspen is home to tons of shops, restaurants, lodging properties, and home rentals. This will be your most centralized area, Aspen even has an incredible free bus system to transport you to each resort base.
Your second option is at the base of Snowmass Mountain. Snowmass, being the biggest of all the Aspen Mountains, has a large base area filled with condos, hotels, restaurants, bars, and entertainment. This is your spot if you want everything at your front door.
Looking for lodging in Aspen? Check out our favorite spots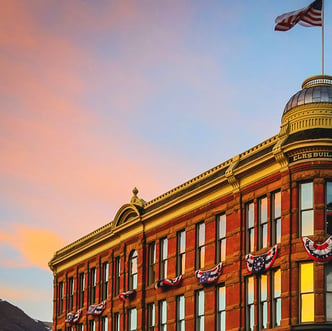 Once You Have Arrived
Did you pack your skis and boots? Great, you're a step ahead of the game. For the guests who do not have gear, don't worry, your options are endless. 4 Mountain Sports is the premier rental shop in the Roaring Fork Valley. Offering 9 locations, there is sure to be one near wherever you decide to stay. Besides having the best gear to select from, 4 Mountain Sports will hold your gear overnight so you don't need to lug it around with you.
You should already have you Ikon Pass in your pocket so it looks like you are ready to ski or ride!
Skiing & Riding
Rising directly from the town of Aspen, this small yet steep mountain has been around for over 70 years. The first of the four mountains, often still called by its former name, Ajax, is composed of 675 skiable acres, none of that being easy terrain. Aspen Mountain is known for long steep trails, bumps, and some of the best glades you will ever ski. Take the Silver Queen Gondola up to the summit and give your legs a challenge with a 3 mile, 3,000 vertical drop run.
When the legs become too tired, take a break on the famous sundeck operated by Aspens only 5 diamond hotel, The Little Nell. Fresh made, grab and go food with breathtaking views of Aspen Highlands and nearby 14,000 ft peaks.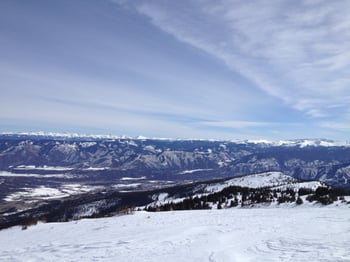 The largest of the four ski areas, Snowmass has over 3,300 skiable acres and the largest vertical descent of any ski resort in North America. This is where most visitors spend the majority of their time, there are more than enough diverse trails to ski here every day and never cover the same ground twice.
Try Elk Camp for an elevated take on casual on-mountain food. Cozy up next to the fireplace with a bowl of chili or take in the views on the outside patio.
For a more upscale experience, trade-in those icy boots for a pair of warm slippers at Sam's. Enjoy freshly made Italian cuisine, a glass of wine, and sweeping views of the valley below.
Even though Aspen Highlands is located only one ridge over from Aspen Mountain, this mountain is in a league of its own. Out of the 1000 acres of skiable terrain, over 70% of that is black to double black skiing. This mountain is not for the faint of heart. The backbone of Aspen Highlands is the Highlands Bowl. The only way to reach the skiable terrain is a combination of snowcats and hiking. Once atop, you are treated to some of the steepest inbound terrains North America has to offer. This area is for expert riders only, but if you are, it will be one of the best inbound runs of your life.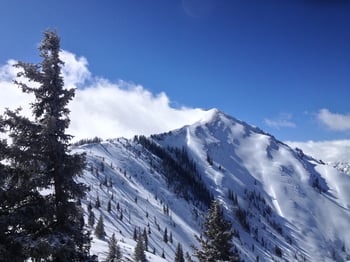 Ok, so you rode the lifts, took the cat, and hiked your butt off to ski the bowl, now it's time for a mid daybreak. Head over to Cloud Nine Alpine Bistro for a relaxing table service lunch or over to Merry-Go-Round for a more causal grab and go. Grab a drink, take in the Colorado sun, recharge and get back out there.
Buttermilk is most known for hosting the winter X-games every year and having two extraordinary terrain parks with a 22-foot super-pipe. That should not deter the typical rider, Buttermilk is also home to miles of groomers and glades. The Hideout Children's Center at the base of the mountain is the perfect location for the kids to learn to ride and ski as well.
Hungry? Cliffhouse, at the summit of Express lift, offers made to order Mongolian BBQ and Pho as well as an American grill.
Bumps, located at the base, gives you front row seats to watch riders and skiers try their hand at the super-pipe while serving up Mediterranean-inspired Made-to-Order Pastas & Salads.
Dinner Spots
Upscale:
Matsuhisa - This world-renowned Japanese inspired seafood and sushi restaurant lives up to its hype. Even with locations all over the world, if you are in Aspen, you should still get a reservation here. The food is incredible.
Piñons - With over 32 years of providing Aspen with outstanding food, Piñons has become a mainstay in town. Their contemporary American menu is sure to please anyone in your party.
Casual:
The White House Tavern - The White House Tavern resides in the historic A.G. Sheppard House built-in 1883. They serve up a simple menu of burgers, salads, and pizzas but is constantly voted one of the best restarts in Aspen.
Unique:
Snow Cat Dinner Lynn Britt Cabin - Be whisked up Snowmass Mountain after the lifts closed in the comforts of a snowcat to a cabin high up on the mountain. The Executive Chef will serve four courses of delicious New American cuisine while live music entertains you throughout the evening. Reservations are required.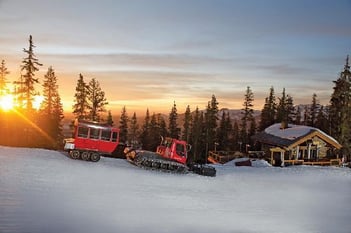 Non Skiing Activities
Contrary to popular belief, ski resorts are not just for skiing. There is plenty to do for the non-skier/rider of the group.
Breathtaker Alpine Coaster: Riders will wind their way through over a mile of forest on an elevated track at speeds of up to 28mph.
Tubing: Race down the carved out tracks on inner tubes. Race the family or grab ahold of each other and go together!
Snowshoeing: Sign up for a guided hike through the serene spruce and fir forests as you take in Aspen's majestic vistas from Richmond Ridge.
Aspen has and will always be a top resort destination in the world and for good reason. Summer or winter, there is no shortage of activities and entertainment to be had. And now with the addition of your Ikon Pass, all you need to do is find lodging and you are ready to ski.
Have a good winter!