The dining scene in Aspen features some of Colorado's best cuisine. And believe it or not, but you do not need a reservation months in advance to get a great meal; the city may be small, but your options are varied and impressive. When the hunger sets in and you are in a pinch, give these spots a try for some delicious food.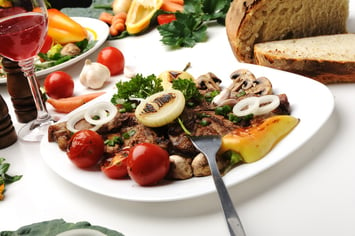 White House Tavern—302 East Hopkins Avenue
Situated on an idyllic corner at the end of Restaurant Row, White House Tavern is one of Aspen's most popular casual dining spots. The restaurant serves premium sandwiches paired with a top notch selection of wines, beers and cocktails, and you can can count on a lively and relaxed environment where you can peak in on the exhibition kitchen and admire impressive artwork amongst the wood paneling. The Crispy Chicken Sandwich is an absolute must.
520 Grill—520 East Cooper Avenue
Two blocks from the gondola and down the stairs, below Pitkin County Dry Goods, is 520 Grill, Aspen's most popular burger joint. The interior is modern and sleek and between the handcrafted burgers, hot dogs, tacos, soups, salads, fries and more, the food selection is impressive for such a small spot. Delivery and take out options are available for those looking to take their meal out on the slopes.
Justice Snow's—328 East Hyman Avenue
Adjacent to the historic Wheeler Opera House, Justice Snow's is a landmark local eatery serving breakfast, brunch, lunch, dinner, and libations. Step inside and you'll immediately feel transported to the Old West. Large groups are also invited to host special events in the main dining room. Pro tip: the sweet potato fries are the best in town.
Hickory House—730 West Main Street
Named the best ribs in Colorado and praised by Oprah Winfrey herself, Hickory House is a casual and affordable place to get a hearty meal. The rustic interior is the perfect setting for a quick bite or a full fledged pig roast BBQ. Though located close to the western edge of town, the sauce alone is worth it.
Jour de Fête—710 East Durant Avenue
French for "holiday," Jour de Fête is a family owned cafe and bistro a few steps away from the gondola next to City Market. Soups, salads, and regional dishes dominate the menu, along with plenty of à la carte options. The sunny patio is a fabulous place to sit and sip while people watching the day away slopeside. Try the homemade lasagna for a hearty treat.