Aspen is known for powder days and summer sun, but it also is a great scene for foodies. From classic American to Italian to Japanese, there is a taste for every palette here. And if you are looking for a great tasting local meal that won't break the bank, you have a surprising number of options. Take a break from the glitz and glamour and try one of these hidden gems.
New York Pizza—409 East Hyman Avenue, #B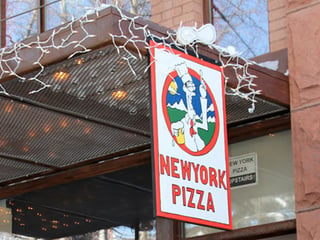 Hidden above a dispensary on the pedestrian mall, New York Pizza is easily the best slice of huge cheesy pizza you can find in the entire Roaring Fork Valley. The walls are adorned with imagery from both Aspen and New York City, creating a cool atmosphere in spite of all the greasy goodness. Be sure to also try their calzones and sandwiches too. Delivery is also an option. And don't forget your dollar bills—New York Pizza is cash only.
Grateful Deli—233 East Main Street
A crowd favorite, Grateful Deli has won the Local's Choice award for Best Sandwich Shop since 2010. Specialty sandwiches stacked with meats and cheeses on foccacia bread from Louis Swiss Pastry are sure to satisfy, especially when paired with chips and a drink. Finish off your meal with their Cosmic Charlie, a gooey peanut butter s'more freshly made in house. Catering for big groups is available, but be sure to beat the lunch rush; there are only a few tables and chairs outside on the sidewalk to choose from on any given day.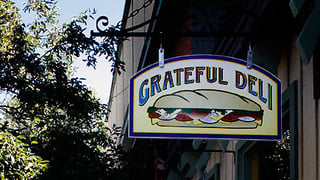 Bamboo Bear—730 East Cooper Avenue
Serving gourmet Asian food without the price tag, Bamboo Bear is relatively new to the Aspen dining scene. Located on the eastern edge of downtown, this small shop is the last restaurant on Highway 82 before Independence Pass. Spring rolls, Korean BBQ, and pho are staples here, as well as Thai tea and coconut water. Bamboo Bear is the perfect place to warm up after a cold day on the mountain.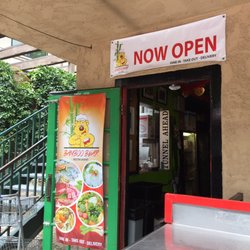 Pyramid Bistro—221 East Main Street
Up the stairs from Explore Booksellers, Pyramid Bistro is a "nutritarian" restaurant specializing in healthy options that are primarily meat-free. Though a few fish and chicken options appear on the menu, the focus here is plant based. The setting is refined, a bit fancier than some of the other places on this list, but warm and inviting. Big windows invite natural light into this comfortable space, welcoming you to enjoy a delicious meal prepared with care.