While in Aspen there are so many great places to visit and things to do, but sometimes it is nice to see what other towns in the surrounding areas have to offer. One town that always sticks out in my mind that is not too far away is to spend some time in Glenwood Springs.
Glenwood Springs is a great place to go and visit for a day. There are a ton of activities to do and you can get there from Aspen in just under and hour. Not only is the drive beautiful, but once there, you will have a day full of great activities. If you are looking for a day of great shopping, and some great food, head to the main street. One of my personal favorites is The Pullman. This American eatery has some awesome menu options as well as some great craft cocktails. The Pullman is a great place that is trying to give a new hip vibe to the Glenwood area.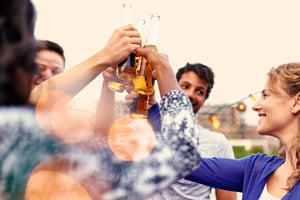 Another great place to grab a bite is the Juicy Lucy Steakhouse. Here they take great care in preparing a delicious menu with daily specials that try to concentrate on sourcing local food. Fresh seafood is brought in six days a week and each day something unique and delicious is prepared. This place is a must stop for tasty food.
If you are a beer connoisseur, you might want to head to Casey Brewing and Blending. Here you can take a tour of this amazing distillery and try some of the beers available. Casey Brewing and Blending is known for their sour beers and have won a variety of awards for their beers. Although they have not been around very long, their beers already have a great reputation.
Glenwood Springs has so many activities to do, but maybe you really just want a day of relaxation. If this is more appealing, head to the Iron Mountain Hot Springs. Here you can spend an entire day soaking and relaxing in natural spring water. There are 16 natural mineral hot spring soaking pools to choose from. Plus, while soaking you can enjoy the gorgeous views of the river.
Glenwood Springs is a wonderful way to get out of Aspen for a bit and do some exploring of Colorado. You will not be disappointed with some time spent here with your family and loved ones.