It is no secret that Aspen is known for being a world-class destination with five star hotels and haute cuisine on every corner. But did you know that tucked away a few steps away from the Gondola is a local favorite known for friendly service and delicious filling meals that won't break the bank? If you have yet to try Big Wrap, you must stop by the next time you are in Aspen to experience the best value meal in the entire Roaring Fork Valley.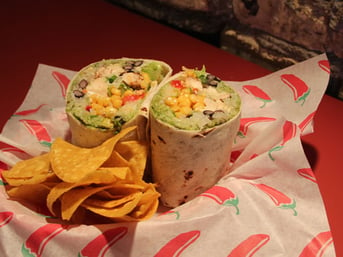 Located below grade on Durant Avenue, Big Wrap has been serving locals and tourists alike for over ten years. A tiny but formidable hole-in-the-wall with just a few barstools to choose from, the staff is friendly and the service is fast. The lunchtime rush can see a line sneak itself out the door and up the stairs, but you'll never have to wait long for a delicious meal. And to make things easier for those confined to office chairs or not willing to brave the cold, Big Wrap offers delivery service from 11 AM to 3 PM Monday through Friday.
As small as it is, Big Wrap has a big menu. Naturally, they are known for their wraps—Hail Caesar and Chow Baby are crowd favorites—but you can also enjoy tacos, salads, cookies, chips, and a huge selection of smoothies. Try the Blue Banana or the Berry Tasty for a little tropical flavor once you are done slopeside; add acai for only $2 along with a booster for a sweet protein kick. And be sure to treat yourself to their homemade citrus corn chips.
Treat yourself and your bank account to a low-cost meal in Aspen after a fun day on the mountain. You'll be glad you did. And that's a wrap!