Everyone loves a good Powder Day, and there is no shortage of fluffy white snow between Aspen's four ski mountains. With over 300 trails to choose from, the skiing around this little mining-town-turned-ski-resort is incredibly diverse. The next time a storm hits and the tracks look fresh, fly down these runs for the best Powder Day fun in Aspen/Snowmass.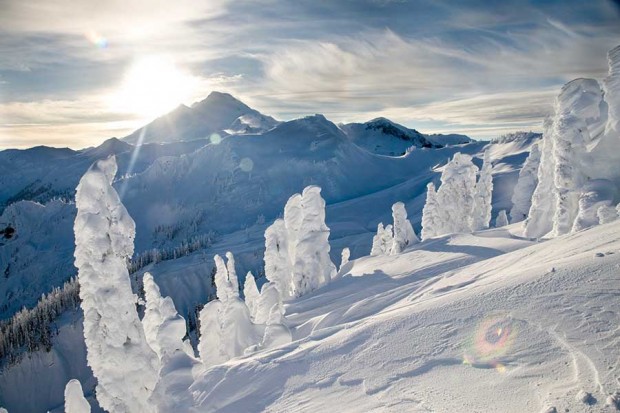 Beginner
New to skiing? Head straight to the "beginner's mountain"— Buttermilk or the largest mountain Snowmass to learn proper form and balance in ski school. With wide open trails and shorter runs like Oregon Trail, it is easy to enjoy a leisurely day on this smaller mountain. Snowmass itself features designated "learn to ski" zones on both Assay Hill and Fanny Hill. Either way, the variety of Buttermilk and Snowmass will keep everyone happy and comfortable.
Intermediate
Intermediate terrain comprises the majority of the skiable acreage in Aspen: Aspen Mountain (or, "Ajax," as the locals call it) is 48%, Aspen Highlands is 30%, Buttermilk is 39%, and Snowmass is 47%. In other words, once you graduate from the bunny slope, pick any mountain you choose. Ruthie's is a great trail on Ajax that features stunning views of Aspen on one of Colorado's best cruiser runs, while dozens of routes off the Tiehack lift will satisfy visitors at Buttermilk, including the popular Bucksin. Thunderbowl at Aspen Highlands is wide and a great place to learn more about skiing on moguls. And lastly, any intermediate skier must check out the glades and glides around Elk Camp on trails like Long Shot and Bear Bottom—the views of the Maroon Bells and Pyramid Peak alone are worth it.
Advanced
Much like the green circle beginner trails, Buttermilk and Snowmass are your best options for advanced adventures. On opposite ends of Buttermilk are Tiehack Parkway and Jacob's Ladder, two steep single black diamond trails that are a great transition from the intermediate blue squares elsewhere on the mountain. Both are longer runs that are perfect for practicing proper advanced skiing techniques. As for Snowmass, Sam's Knob is known for moguls, bumps, and trees—whiz down Slot, Wildcat, and Howler to get the adrenaline pumping.
Expert
Take those bragging rights home with you and head to Aspen Mountain and Aspen Highlands for the most extreme terrain in Aspen/Snowmass. On Ajax, the Silver Queen Gondola will take you straight to Back of Bell for a great morning rush and Gentleman's Glade as you close out your day. Over at Aspen Highlands, the infamous Highland Bowl is a rush no like other. A long, steep hike leads you to the top of 12,392 foot Highland Peak with rewards like 360 degree views of Aspen and the Elk Mountains and some of the world's most intense alpine skiing: runs like G-2 through G-8 are NOT for the faint of heart.
Of course, there are many other great trails to choose from in Aspen/Snowmass. Be sure to dress warmly and apply sunscreen to get the most enjoyment out of your day. Now go out and enjoy that fresh pow-pow!