Advances in neuroscience have opened new windows into how music affects mood, cognition, and other brain functions, and this understanding is vastly deeper than it once was when the now-debunked "Mozart Effect" was popularized.
Learn more about the latest scientific research on music and the brain in a free talk with experts Alan Fletcher, the president and CEO of the Aspen Music Festival and School, and Katie Hone Wiltgen, the AMFS director of education and community programming, in conversation with journalist and ACDS parent Daniel Shaw. They will discuss
their thoughts on the instrumental versus intrinsic motivation and value of music as part of the education system as well as the concept of whole child education.
Free and open to all in Edlis-Neeson Hall on the shared campus of Aspen Country Day School and the Aspen Music Festival and School at
225 Music School Road
. The campus is one mile from the roundabout on Castle Creek Road. Refreshments provided.
Presented by the Aspen Country Day School Speaker Series and the AMFS Salon on May 11 at 5:30 p.m. This event is free, but an
RSVP is requested
.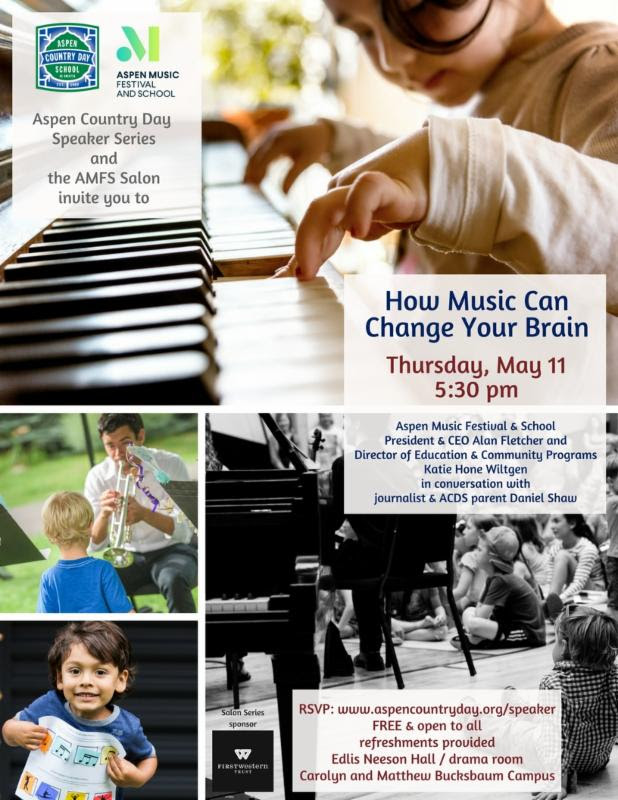 Daniel Shaw is a freelance writer and musician living in Woody Creek, Colorado, with his wife, Isa Catto Shaw, an artist, and their two children, Fiona and Duncan. He has written for The New York Times, the Los Angeles Times, The Washington Post,
Grist.org
and for numerous magazines, including Aspen Sojourner, on subjects ranging from flyfishing to the economic plight of Native Americans to the effects of climate change on the Roaring Fork Valley. He reviewed music in Los Angeles for Daily Variety and the LA Weekly, spent several years traveling the world writing about the commercial fishing and aquaculture industries and was a founding editor of Simply Seafood and Spa magazines. As a Washington, D.C., bureau chief during the second Clinton administration, he reported for a nationwide group of daily legal newspapers on the White House, Congress and the Supreme Court, before going to New York as a staff writer for The American Lawyer magazine. He also served as press secretary for the Navajo Nation, the country's largest Native American tribe, in Window Rock, Arizona. As a blues, rock and country harmonica player, Daniel has played live with numerous national, regional and local acts and has logged many hours of studio time recording sessions for albums and commercials. In the nonprofit world, he served for nine years on the board of directors of the American Farmland Trust, as well as on the boards of the Aspen Community Foundation and the Aspen Writers Foundation. Currently, he is an advisor to Island Press, the Washington, DC-based publisher of scientific and environmental books, and serves on the board of trustees of Aspen Country Day School.
Mrs. Katie Hone Wiltgen, mezzo-soprano, directs the BHS Chamber and Concert Choirs, the BMS
8th-grade Mixed Choir, and the 7th-grade beginning Choirs and, in previous school years, taught drama at both BMS and BHS and was the Student Leadership Council Advisor at BHS. She also assists with the BHS Band and some years co-teaches the BHS History of Rock and Roll and Music Theory classes with Mr. Lenio.
Originally from Celina, Ohio, Katie holds a Bachelor of Music degree in Music Education and Vocal Performance from Miami University (Oxford, OH) and a Master of Music in Conducting from Colorado State University. A highly sought-after vocalist, conductor, trombonist, and teacher, Katie can be seen performing, coaching, and conducting frequently in the Roaring Fork Valley, including singing soprano with the Local Vocals quartet. She is a founding director of the valley-wide Maroon Bel Canto Children's Chorus, sponsored by the Aspen Music Festival and School and Christ Episcopal Church (Aspen). Katie and her husband John live in Aspen with their daughter, Lela Mac and their baby boy, Kurt Porter.
Alan Fletcher, one of this country's most accomplished music administrators and respected composers, was born in 1956 in Riverside, New Jersey, and earned his baccalaureate at Princeton University (1978) and his master's degree (1979) and doctorate (1983) at Juilliard. He studied composition with Roger Sessions, Milton Babbitt, Edward T. Cone, and Paul Lansky and piano with Jacob Lateiner and Robert Helps. In 1985, Fletcher was appointed to the faculty of the New England Conservatory of Music, teaching composition and theory and serving successively during his 16-year tenure at the school as Dean, Provost, and Senior Vice President. From 2001 to 2006, he was Professor of Music and Head of the School of Music at Carnegie Mellon University in Pittsburgh, after which he assumed his current position as president and CEO of the Aspen Music Festival and School. Fletcher has lectured nationally and internationally on music and music administration and served on many boards, panels, juries, seminars and committees, including the board of the Aspen Institute and the Pittsburgh Opera. He has also contributed articles and op-ed pieces to the Huffington Post,
The Guardian
,
Symphony
magazine,
Gramophone
magazine, the
Wall Street Journal
,
Sonus: Journal of Global Music
,
Pittsburgh Post-Gazette
,
Baltimore Sun
, the
Journal of Music Theory Pedagogy
,
Chronicle of Higher Education
, and many others. Fletcher has won numerous composing awards and received commissions from the National Dance Institute, the Pittsburgh Symphony (2008, 2011, and 2015), Los Angeles Philharmonic, Atlanta Symphony, Zurich Chamber Orchestra, Nashua Symphony, National Gallery of Art, Boston Celebrity Series, Duquesne University, New York Camerata, and other noted ensembles, organizations, and soloists. He chaired the 1997 Salzburg Seminar Music for a New Millenium: The Classical Genre in Contemporary Society.