One of the most exciting events in global alpine ski racing will take place in Aspen March 15-19, 2017, when the World Cup Finals hit the Aspen Snowmass resort.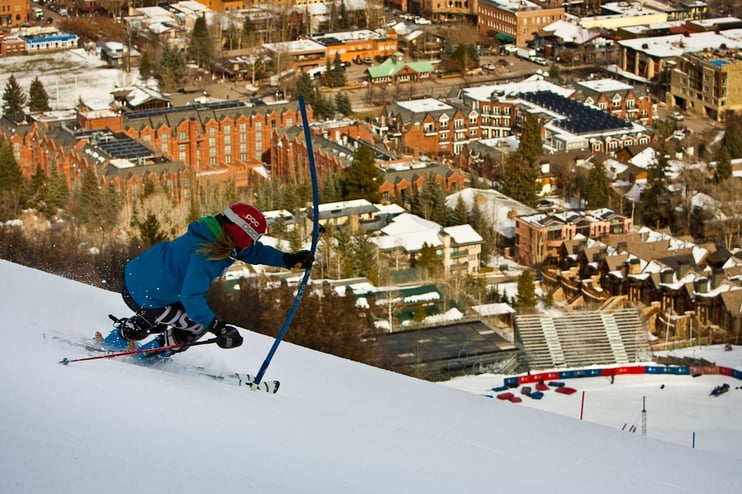 A ski racer on the women's World Cup slope in Aspen. Jeremy Swanson photo courtesy USSA
The World Cup Finals will feature the top 25 men and women in eight tech and speed events as well as a mixed gender team competition – the newest Olympic event. Aspen is the first U.S. resort to host World Cup Finals since 1997. Aspen, which has been an iconic stop on the tour since 1968, has invested heavily into bringing the season finale event to America, showcasing the sport in one of its most popular venues.
"Aspen has been a remarkable partner in a very large scale project to bring the best ski racers in the world to the USA for an end of season festival of the sport," said USSA President and CEO Tiger Shaw. "It's an important part of our initiative to increase awareness of ski racing in America."
"Our resort partners continue to be extremely supportive in showcasing alpine ski racing on home snow," added Shaw.
The USSA and NBC Sports are teaming up once again to put together an extensive TV and live streaming schedule for all of the alpine World Cups.
John Rigney, Vice President, Aspen Skiing Company, said Aspen has been a popular stop on the World Cup tour since its inception in 1968.
"The Audi FIS Ski World Cup Finals is a major focus for Aspen Snowmass and our entire community," Rigney said. "We're proud to bring the world's best ski racers to town in celebration of athletic achievement, and treat racing's global fans to an amazing week on and off the slopes in Aspen, Colorado."