Aspen today is rich in culture, beauty, and outdoor adventure. However, years ago Aspen had gone through an interesting history before they got to where they are today.
Back in the 1880's when Aspen first came about, Aspen was founded as a silver mining camp for its first decade of existence. The silver boom started in Leadville Colorado and soon there after there were tons of areas throughout Colorado that started to mine silver. During this silver boom around 82 millions dollars worth of silver was mined. However, in 1893 with the Sherman Silver Purchase Act the price of silver dropped significantly causing a major slow down in the development of Aspen. This time was referred to as the Panic of 1893, where the US slipped into a state of economic depression.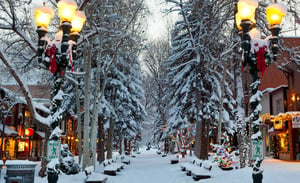 Thankfully during the mid 20th century Aspen's history would forever change. During this time Aspen Mountain started to be developed into a ski area. A man by the name of Walter Paepcke bought a lot of property throughout Aspen and redeveloped the area. He founded the Aspen Institute as well as the Aspen Skiing Company both of which really helped develop Aspen into the ski resort that it is today. He also founded the Aspen Music Festival and School and the Aspen Center of Physics.
One of the main reasons Aspen is such a well known mountain town today is because many celebrities travelled here for a retreat. During the 1930s when the development of the ski resort really started to take off was when Aspen really started to take root. Since then families and celebrities alike have come from far away to visit this magical little town.