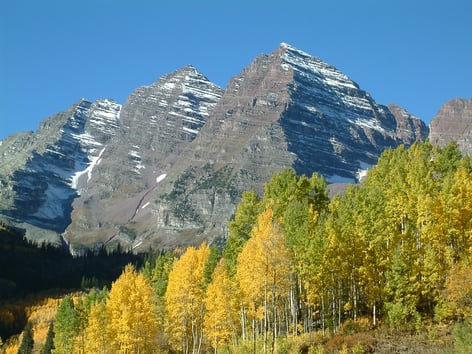 Are you planning on booking a girls' trip in the coming weeks or months? Why not take a look at the things your group can do in Aspen, CO? The city famed for its mountainous landscapes, and captivating scenery offers a great range of options for that memorable trip with your best girlfriends! With arguably some of the best skiing in the world, world class dining options, a wide variety of nightlife activities and more, Aspen is the perfect location for your trip with the girls in the coming months.
Let's take a look at 4 activities that you and your girlfriends can take advantage of while you're in town!
The Aspen Saturday Market
Running from June 13 to October 10, 8:30 am to 3:00 pm on Saturdays, the Aspen Saturday Market features artisans and agricultural vendors from across the region offering delightful options for the girls to check out as part of their Saturdays. Guests to the Aspen Saturday Market will have the opportunity to experience live music, sample locally grown produce and access a giant food court offering the latest and greatest taste sensations from across the entire state!
Luxury Spa Options
What better way to spend your time in Aspen than relaxing at one of the many luxury spas in the area? Consider for example, Remède Spa, which is widely considered one of the finest resort spas in the word. Situated in the St. Aegis resort, Remède invites guests into a world of unimaginable decadence. Here, you and your friends will experience cutting-edge treatments that refresh the mind and the body and will allow all members of your girls' trip to forget their troubles and focus on blissful relaxation. Remède Spa also offers access to customized spa treatment options designed uniquely for the individual after a consultation with an on-site specialist.
Stylish Shopping Choices
Aspen is known for its high-end shopping options. It's part of the reason it's the perfect location for a getaway with the girls. In addition to offering Gucci and Prada stores in close proximity, Aspen also has its own unique luxury clothing stores, including Souchi. Souchi offers everything from sunglasses to dresses to ensure your friends have access to the latest styles on their trip to Aspen in the coming months. You'll find an accessory and clothing option for every style in the group.
Stunning Trails
For that adventurous girls' trip to Aspen this year, why not make the most of your escape by taking the girls on one of many walking trails in the area? The Rio Grande trail is a great choice for the inexperienced trail user. It's an option for those on bikes as well as walkers, and will ensure access to some of the most stunning vistas captured across the region.
It's the ideal time to book that girls' trip to Aspen, Colorado. To begin booking today, contact our team directly!