Aspen is a town that is truly synonymous with champagne dreams, which is why it's constantly voted among the most exciting places to ring in the new year. Here's 5 great parties that will help you close out the crazy 12 months of 2016.
The Dom Perignon Party - The Little Nell
The Dom Perignon New Year's Eve party at the Little Nell is one of the most exciting events this holiday season. The exclusive celebration takes place throughout Chair 9, the living room, element 47's bar and outdoor lounge, as well as the Grand Salon. Each space will be exclusively named and feature musical acts for the premier event of the winter. Enjoy bottomless Dom Perignon, Belvedere cocktails and an open bar, along with food stations replenished throughout the night. Electric Violinist Kat V and DJ Lexey will get the crowd on their feet in The Belvedere Lounge, DJ Cyn will be spinning in The Dom Perignon Lounge with a live act and Josefina Mendez Jazz Trio will perform in The Hennessy Lounge. The party goes from 10 p.m. – 1:30 a.m. with a fireworks display over Aspen Mountain at midnight.
Aspen Gold Rush - Aspen Kitchen & Rick House Social
Named Aspen's premier New Year's Eve event the Aspen Gold Rush party featurs two stories, two DJ's, open bar and Hors d'oeuvres. Upstairs at Aspen Kitchen guests will enjoy a delectable spread of fine foods, cocktail party like atmosphere and a DJ spinning all night. The doors open at 7:30pm and the party will continue into the niht.Downstairs at Rick House Socia guests are welcome starting at 9:30pm and will enjoy open bar, champagne toast, DJ, dancing and late night munchies. Premium table service is available. Each table includes table service with a choice of a number of complimentary bottles of Bourbon, Vodka, Tequila, and Champagne.
Clicquot Cats - The Little Nell
The Little Nell, Veuve Clicquot and the Aspen Skiing Company have created the most memorable New Year's Eve experience. This VIP fireworks experience combines the finest in service and champagne and the ultimate in access and adventure. The Clicquot Cat will depart from the base of Ajax for a ride up Little Nell run to a private setting on the slopes with seating, blankets and a dedicated server at your beck and call to pour Veuve Clicquot's La Grande Dame Champagne by the magnum, present Royal Kaluga Caviar and canapes, and serve The Little Nell's signature hot chocolate for children.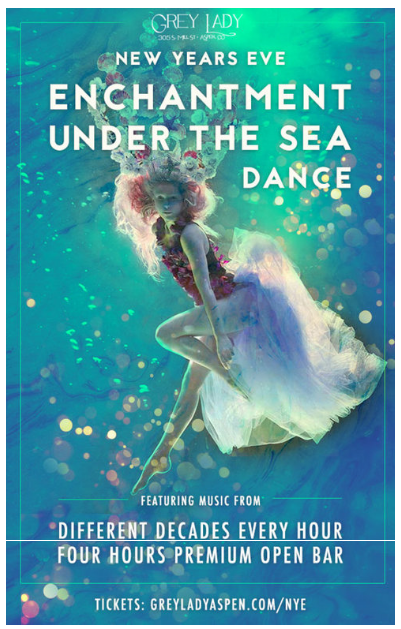 Enchantment Under The Sea - Grey Lady
Grey Lady is cordially inviting guests to join them for a fabulous New Year's Eve celebration. With two dinner seatings featuring Nantucket inspired fare, nautical ambience and a wild party to follow, the Grey Lady is the place to be this New Year's Eve. This year the theme is "Enchantment Under the Sea" with a DJ spinning progressive beats decade by decade, keeping those feet moving all night long.
Aspen Film's Annual New Year's Eve Casino Royal Bash - St. Regis Resort
Aspen Film's Annual New Year's Eve Casino Royal Bash - St. Regis Resort
This evening of wining, dining, gaming, and dancing will feature live music by Double Down direct from New York City and celebrate 25 years of Aspen Film's Academy Screenings while supporting their year-round programs. Ticket include hors d'oeuvres, dinner, open bar, dancing, gaming chips and a champagne toast under the Aspen stars. For even more of an upscale evening, pop for a VIP ticket which gets you access to your own private gaming room with Aspen Film's high rollers.